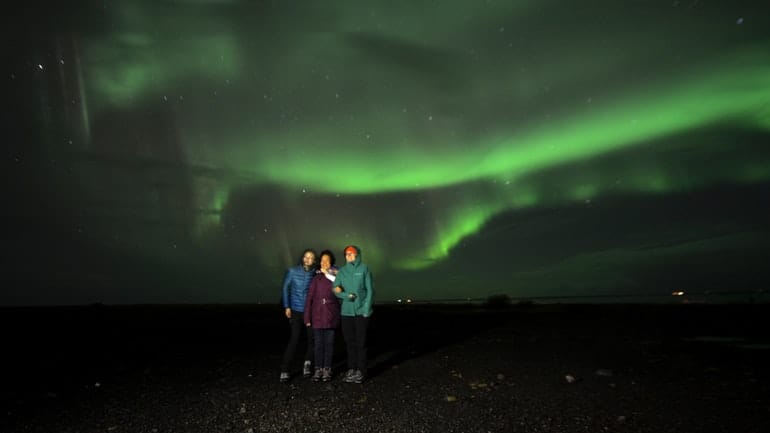 3 Day – Northern Lights South Coast Tour
Golden Circle, South Coast and Jökulsárlón Glacier Lagoon
Included
Pickup at your accommodation

Golden Circle Sightseeing

South Coast Sightseeing

Professional Local Guide

Hotel or guesthouse accommodation (private bathroom)
Breakfast on day 2 and 3
Lunch on day 1
Free WiFi
Drop-off at your accommodation
What to bring
Bring warm and waterproof clothes

Gloves and headwear and good shoes

A camera is always good to have
Swimsuit and towel (can be rented at location)
Thingvellir National Park
Friðheimar Greenhouse Farm
Jökulsárlón Glacier Lagoon
Blue Natural Ice Cave (November – April)
Skaftafell National Park (May – October)
3 Day Northern Lights South Coast Adventure
Join us on a 3 day South Coast Northen Lights Adventure visiting all the amazing places along the coast, as well as hunt for the Northern Lights. We start by exploring the Golden Circle, visiting Thingvellir National Park, Geysir Hot Springs, Gullfoss Waterfall, a rare lunch experiene at the unique Friðheimar Greenhouse restaurant and unwind in the warm and cosy Secret Lagoon. After dinner we hunt for the amazing Northern Lights. After breakfast on day 2 we head to the South Coast and enjoying the 60 metres high (196 ft) Seljalandsfoss Waterfall from behind. A small trail takes you around the waterfall giving you an unique view from behind the waterfall. The majestic Skógafoss Waterfall is the next visit. Skógafoss tumbles down 60 metres (196 ft) from a broad cliff and on a sunny day the mist from the waterfall produces a beautiful rainbow. Learn about warming climate and the effect on glaciers in Iceland by visiting the Sólheimajökull glacier. Sólheimajökull an outlet glacier from Mýrdalsjökull that sits on the active Katla volcano. Pray that Katla will erupt so you get stuck in Iceland, like the travellers back in 2010 when Eyjafjallajökull volcano erupted! Reynisfjara Black Beach and Reynisdrangar await to be explored, but watch out for those sneaky waves, they can be very strong. Stop at Vík village before heading to the accommodation. If we did not see the Northern Lights yesterday we go again tonight. After breakfast on day 3 start by visiting Jökulsárlón Glacier Lagoon, which is a 200 metre (656 ft) deep glacial lake fed by Breiðamerkurjökull Glacier, an outlet glacier from the largest glacier in Europe, Vatnajökull. Enjoy the floating icebergs and perhaps seals swim by. Diamond Beach, the black beach in front of Jökulsárlón Glacier Lagoon, is often filled with icebergs from the lagoon of different sizes and shapes and sparkle like diamonds in the daylight. Enjoy cristal blue natural ice caves (November – April; min age 10) or Skaftafell National Park (August – October). In winter we visit natural ice caves but in summer when they are closed we visit Skaftafell National Park.We hike to the beautiful Svartifoss, in English, the Black Waterfall. Svartifoss tumbles down 20 metres (65 ft) from a cliff that is made of beautifully hanging hexagonal basalt columns. The hexagonal columns form inside a lava flow that cools extremely slowly, giving rise to crystallization. We drive along the South Coast back to Reykjavík. We drive along the South Coast back to Reykjavík.
9:00 AM – REYKJAVÍK TO GOLDEN CIRCLE
Pick up between 8:30 – 9:00 AM, at your accommodation. Wait for the Travelling Iceland vehicle.
THINGVELLIR NATIONAL PARK AND ÖXARÁRFOSS WATERFALL
Thingvellir is characterized by tectonic rift valley and marks the rifting of the Eurasian and North American plates from each other. In 930 the Icelandic Parliament, the first democracy in the world, was established at Thingvellir. Thingvellir became a UNESCO World Heritage Site in 2004. Enjoy a short walk to Öxarárfoss waterfall.
STROKKUR AND THE GEYSER AREA
Did you know that the english name "geyser", derives from the one and only in the Haukadalur area? The geyser Geysir itself erupts boiling water up to 70 meters, but is almost inactive now. Strokkur, only few meters apart from Geyser, erupts on average every 5 minutes.
GULLFOSS, GOLDEN WATERFALL
Near Geysir is the Gullfoss Waterfall, which probably tops the list of being the most beautiful waterfall in Iceland. Enjoy the view from above and walk down the path to get close to the powerful waterfall.
FRIÐHEIMAR GREENHOUSE FARM AND HORSE VISIT.
At Friðheimar greenhouse, tomatoes are cultivated, using geothermal heat and geothermallly generated electricity. With a tropical climate inside, they have opened a restaurant, right there in the tomato field. The main ingredients in their menu is of course, tomatoes grown there. This is a very rare and unique lunch experience. On the way we visit some friendly Icelandic horses.
SECRET LAGOON
Secret Lagoon is a natural geothermal bath, where you bath in raw nature and relax at the end of the day. After dinner we look for the Northern Lights. Overnight near Hvolsvöllur.
9:00 AM – SOUTH COAST
SELJALANDSFOSS WATERFALL
After breakfast we drive to Seljalandsfoss waterfall. Seljalandsfoss is a 60 m high waterfall, beautifully located and exceptional because you can enjoy it from behind. A path takes you around the waterfall and standing behind it is a rare and unique experience. However, on very cold days the path can be closed because of ice, but then you have the opportunity to enjoy the beautiful icy landscape.
SKÓGAFOSS WATERFALL
Skógafoss is one of the most famous waterfalls in Iceland. It is also 60 m high and about 25 m wide. Seljalandsfoss and Skógafoss are both in glacier rivers, meltwater from Eyjafjallajökull and Mýrdalsjökull. Eyjafjallajökull is now famous for it's 2010 volcanic eruption that disrupted air traffic in Europe.
SÓLHEIMAJÖKULL GLACIER
Sólheimajökull is an outlet glacier, flowing out of the ice cap Mýrdalsjökull. Underneath Mýrdalsjökull is the famous volcano Katla. Glaciers are retreating and disappearing around us on an unprecedented rate. It is predicted that in a few decades the glaciers in Iceland will all be gone.
REYNISDRANGAR AND REYNISFJARA BLACK BEACH
Iceland is a volcanic island, made up mainly of basaltic material that is black in colour. Hence, the "Black Beaches". The black beach was, in 1991, ranked as one of the ten most beautiful non-tropical beaches in the world. On the beach, there are remarkable basalt columns. Reynisdrangar is a sea stack, a geological formation made by wave erosion of surrounding material.

VÍK VILLAGE
Vík village is a small village south of Mýrdalsjökull glacier. A visit to Vík is the end of our amazing day along the South Coast. Overnight near Kirkjubaejarklaustur. If you did not see the Northern Lights last night, try again tonight.
9:00 AM – SOUTH COAST
JÖKULSÁRLÓN GLACIER LAGOON
Jökulsárlón glacier lagoon is a beautiful lagoon in front of a calving glacier called Breiðamerkurjökull, an outlet glacier from Vatnajökull, the largest glacier in Iceland. Enjoy the amazing view of floating icebergs in a lagoon and walk between them at the black beach, which is sometimes referred to The Diamond Beach. 
DIAMOND BEACH
In front of Jökulsárlon Glacier Lagoon is Breiðamerkursandur black volcanic beach. The icebergs that calve from the glacier edge float on the lagoon and through the river mouth towards sea. These icebergs are scattered around the black beach like diamonds. They are seen in two shades: milky white and bright blue, which depends on the air trapped within the ice and is an interplay of light and ice crystals.
CRYSTAL BLUE NATURAL ICE CAVES (November – April) OR SVARTIFOSS AND SKAFTAFELLSJÖKULL GLACIER (August – October)
Enjoy cristal blue natural ice caves (winter; min age 10) or Skaftafell National Park (summer). In winter we visit natural ice caves but in summer when they are closed we enjoy an amazing hike to the beautiful Svartifoss in Skaftafell National Park, and visit the retreating Skaftafellsjökull glacier.
9:00 PM – REYKJAVÍK
We drive along the South Coast of Iceland to Reykjavík.