Book a hike over Fimmvörðurháls from Skógar to Þórsmörk and enjoy breathtaking views and landscape of South Iceland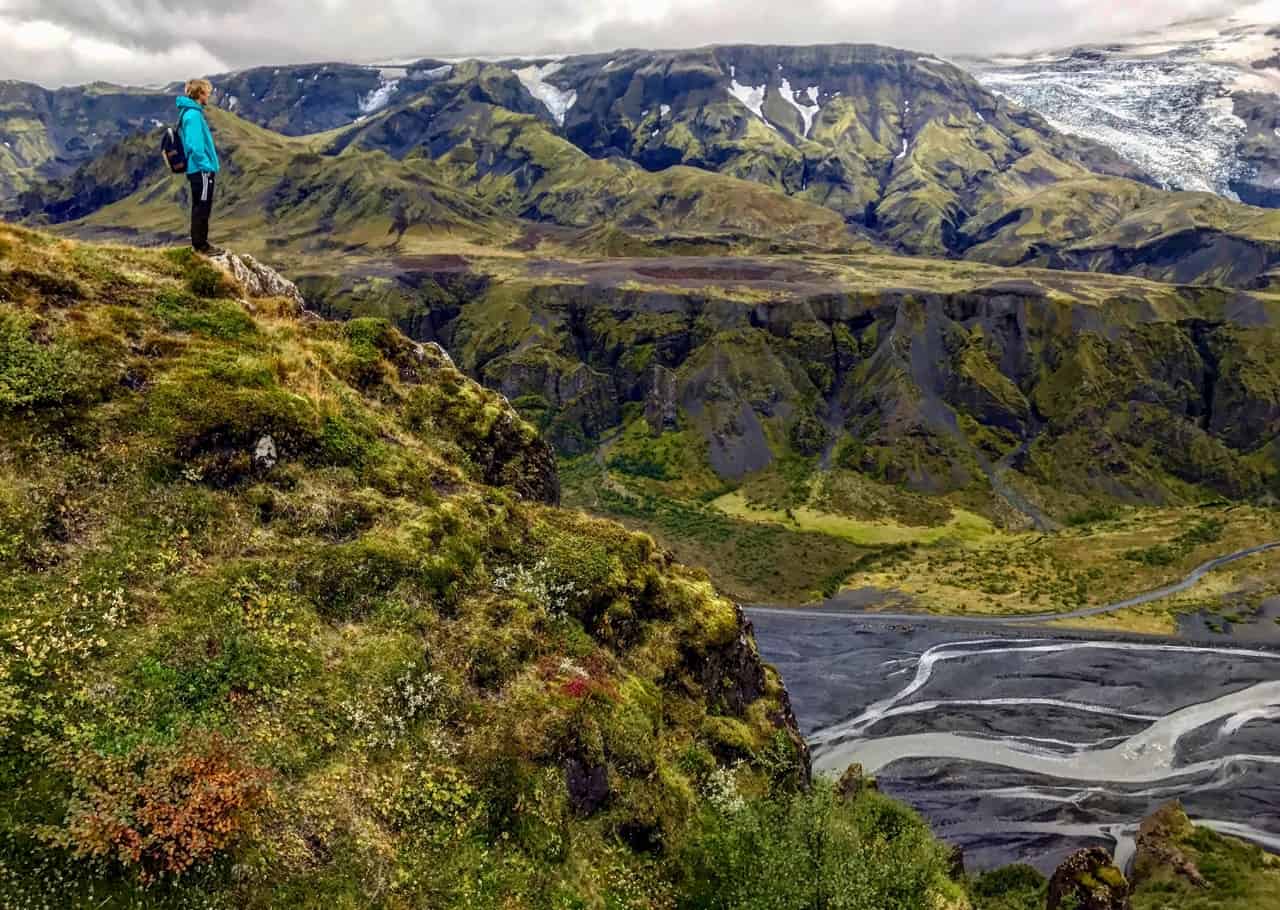 Included
Professional Local Guide from Skógar to Thórsmörk

Not included is transfer from Reykjavík to Skógar and from Þórsmörk to Reykjavík. Can be booked separately (as extra)
Kattarhryggir e. Catspinne
Thorsmork Valley and Nature Reserve
The amazing Fimmvörðuháls Trek is certainly one of the most popular hikes amongst locals. This 25 km hike offers stunning landscapes, including everything from craters, volcanoes, glaciers, dozens of waterfalls and one of the most picturesque nature reserves in Iceland, Thórsmörk. The hike passes Eyjafjallajökull volcano, which is famous for it´s 2010 volcanic eruption, forming two new craters, Magni and Móði. The hike takes you from one of the most famous waterfalls in Iceland, Skógafoss, to Thorsmörk, the valley of Thor. A moderate hike, with a good rest at the top, until we hike downhill to Þórsmörk Nature Reserve.
The name Fimmvörðuháls can be broken down into two words: 'Fimm' meaning five and 'vörður' meaning cairns. In the past, before technology, local people used cairns, piles of rocks, as a navigation system, to get from one place to another. They are particularly found on plains or mountains, where a sudden change in weather, fog or blizzards, could lead to the traveller losing orientation and sometimes get lost. Fimmvörðuháls means that you have to keep an eye on the 5 cairns on your way, in order to ensure you're also headed in the right direction. Icelanders always put a new rock into the cairn every time they pass as a way to say thank you to the others before them, and to help the ones that will come after, by making the cairn even more visible. On this trek, you will not only follow in the footsteps of the Vikings, but you'll also encounter newly formed geological features, namely the two craters, Magni on Móði, that were formed during the 2010 Eyjafjallajökull volcanic eruption.
6:00 AM – REYKJAVÍK – If you meet us in Reykjavík
Meet us at BSI bus station at 6:00 AM, where we take the bus to Skógar.
8:30 AM – SKÓGAR – If you meet us at Skógar waterfall
We will meet at the bath facilities at the camping site, near the Skógafoss waterfall.
We will begin our journey at Skógar with the famous Skógafoss waterfall on our left side and as we climb higher we'll pass dozens of beautiful waterfalls along the way. The scenery is simply out of this world. We'll pass through glaciers, fields of ash, lava fields, historic sites and newly formed craters. We will take brakes for snack and lunch on the way, and we can even stop at the cabin of the Travel Association of Iceland, to rest, warm up and enjoy our lunch. We then continue the hike into the foothills of the Mýradalsjökull glacier, pass across Goðahraun lava field (which formed during the 2010 eruption) and then visit the two new volcanic craters, Magni and Móði that formed during the same eruption. Magni and Móði, are named after the sons of the legendary pagan thunder god Þór (Thor). After passing through these two volcanic craters we will finish our trek by hiking downhill a fairly steep pass called the Catspine, then ending our day in Þórsmörk, which is named after the same famous thunder god, Thor. This fertile oasis is an untouched paradise, where we will spend the evening and reflecting on our challenging but amazing day. The memories made along the trek are sure to be with you for life.
8:30 PM – SKÓGAR – We arrive in Thórsmörk
10:30 PM – REYKJAVÍK – We arrive in Reykjavík
Please remember, warm clothes and water proof. We recommend;
Base-layer (a set of warm wool long-sleeved top and bottom). 
Mid-layer (a medium thickness wool or fleece top to go over your base layer). 
Insulated jacket (a thick and warm insulated jacket to put on during breaks). We recommend a puffy jacket with down or synthetic. 
Shell jacket (gore-tex or similar is mandatory and extremely important in Icelandic climate. The jacket must be waterproof, have a hood, and make sure you are dry even if it rains or snows all day. We recommend jackets with pit zips for ventilation). 
Medium insulated jacket (use a synthetic or down jacket that fits over your base layer and mid layer, yet underneath your rain shell. Should be comfortable with full range of movement when all layers are on). 
Extra top layer (bring an extra medium thick layer to add underneath your medium insulated jacket in case you get cold quickly).
Wateproof shell pants, gore-tex is best, we recommend pants with zips for ventilation.

Hat, gloves and mittens (one thin pair of wool gloves to protect your hands. One pair of over mittens for additional warmth with windproofing.
Hiking socks, two pairs, we recommend wool, above the ankle or higher, two thin and two thick. 
Boots, warm and waterproof hiking boots. 
Backpack, sunglasses (UV rated), water bottle, personal medications, lunch (a sandwich or cold lunch), snacks, compression sacks (or plastic bags, for storing your gear to keep it dry if it is raining), balaclava or buff (to protect your neck and face), thermos for hot drink, first aid kit (if you have certain hiking aids specific to you, i.e. blister care or ibuprofen etc), camera, sitting mat (is nice eto have while on brakes). Wet wipe or toilet paper and a small bag (the toilet paper you will need to carry and throw away later).